E-cigarettes, e-liquids and accessories in Canada - Montreal
An e-cigarette is composed of a battery, a clearomizer and a coil. Each of them has a precise role:


Clearomizer: where we pour the e-liquid and where the coil is located.
Coil: heats the e-liquid to turn it into steam.
Battery: provides power to the coil.


Electronic cigarette, parts and e-juice - Quebec
The online store vapologue.ca provides certified quality products. We offer top brands e-cigarettes in canada: Kangertech, Innokin, Vision...

There are several models of electronic cigarettes, all tailored to your needs based on your current consumption of cigarettes. To help you choose, we have classified them so you can find the rechargeable e-cigarette that will suit you best.

For beginners, we selected different "e-cigarette start kits" that enable you to start vaping with ease.

Experienced vapers will find all the products such as the Mods, variable voltage batteries or airflow clearomizers in order to increase the performance of their e-cigs.

Besides offering you very competitive prices, we have set up a loyalty program that can give you up to a lifetime 10% discount on your entire basket, whatever the product. We deliver your electronic cigarette in 48 hours in Canada and 24 hours in Montreal and Quebec.
Which kit to choose? click here


E-liquids : Tobacco, Gourmet, Fruity, Fresh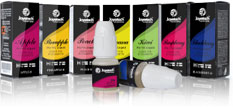 Rechargeable e-cigarettes are used with e-liquid (a 10 ml bottle is equivalent to about 6 packs of cigarettes in terms of puff). Typically, a 10 ml bottle will allow you to vape for 6 or 7 days, but this can vary depending on your habits. Le Vapologue offers e-liquids that are internationally recognized for their quality of manufacture and flavours.

When choosing your liquid, you can select the flavors (Fresh, Gourmet, Tobacco, Fruity) and the nicotine Strength (0mg, 6mg, 12mg, 18mg).
Which e-liquid ti choose? click here
"The sale of rechargeable electronic cigarette and e-liquid is forbidden to minors. Electronic cigarette is not recommended for people with cardiovascular and respiratory problems, pregnant women and non-smokers"



What is e-liquid?
This is the liquid that will be inserted into the cartridge. It will be heated and turned into steam by the atomizer of your e-cigarette. E-liquids are primarily composed of two elements:


Propylene Glycol
Vegetable Glycerin


Dozens of aromas and flavors are available to satisfy all our vapers.


How to choose the right e-liquid?
Several factors are considered when choosing your e-liquid: the flavor and the nicotine Strength but also the proportion of vegetable glycerin and propylene glycol.


Le Vapologue offers 5 level of nicotine: 0mg, 6mg, 8mg, 12mg et 18mg


We have selected 4 kinds of flavours:


It is difficult to steer you to a particular type, it depends on your taste.


Our advice:
We recommend that you start with a Tobacco flavor liquid to find again flavours that you know. Thereafter, dare Fruity, Fresh and Gourmet flavors liquids to explore new sensations.

Like wine, some liquids change over time and become better. The equipment used can also influence the flavours output.